We've joined with trusted partners who can offer free support and advice
This include advice on:
Income and Debt
Broken Boiler/Appliances
Energy efficiency home upgrades
Advice on energy efficiency
Switching supplier/tariff
Home safety
Get in contact
If you want more information on these services, we can arrange for them to contact you. You just need to fill in this simple form. 
Register Form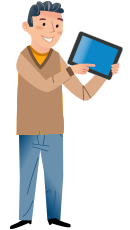 Other Support
Here are some other things you might want to look into for help to keep your home warm or pay your energy bills. 
Warm Home Discount
This is a government scheme for people struggling with heating costs. It can offer money off your electricity bill. You'll need to contact your energy supplier to find out if they can help you. Find out more.
Cold Weather Payment 
This is extra help if you're getting certain benefits. Payments are made when your local temperature is either recorded as, or forecast to be, an average of zero degrees celsius or below for seven days in a row. You do not need to apply as it will be given automatically. If you do not get your payment, tell your Pension Centre or Jobcentre Plus office. Find out more.
Winter Fuel Payment
This offers between £100 and £300 tax-free to help with your heating bills. Ask your energy supplier if they can help you. Find out more.
Energy Company Obligations
Energy Company Obligations (ECO) mean that, by law, energy suppliers must improve the efficiency of households. If you're on a low income or classed as a vulnerable household, you could benefit from help with new heating and home insulation. Contact your energy supplier (the companies that send you your bill to find out more.)
Fuel Tariffs
It's always a good idea to do a price comparison on your gas and electricity suppliers and then choose the best deal for you. Check the Government's list of approved energy price-comparison sites here. 
Disabled Facilities Grant 
You could qualify for a grant from your local council to make changes to your home. Find out more here. 
The ReciteMe toolbar at the top of this page can translate this page into different languages, change the colour of the text, the background, or read the words out.