What area do we cover?
Whilst we have a UK-wide operating licence, our network currently covers Wales and the South West of England. If you're based outside of our area, please visit the Ofgem website to find out who your local gas network owner is.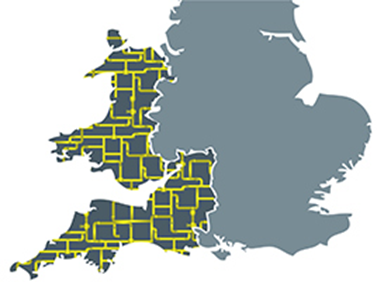 View our maps
Below you can access the maps of our network of pipes through a postcode checker tool. This will enable you to search our network and produce scaled plans. The maps of pipes provide a guide for location, but in any circumstances its best to report your planned works to Wales & West Utilities' Plant Protection team to ensure your safety.
Please note:
This Mapping Service is for regular use only. If you need a specific plan, please contact us directly.
If you need a new connection, please click here. 
The Mapping Service is not accessible on the last Friday of every month between 5-8pm. 
We will be updating our mapping service in late 2018. Please keep an eye on this page for further details.
Please click below to access our online mapping service. This service will be updated in December 2018. From then you will need to register with Linesearch. In the interim, please email dig@wwutilities.co.uk