Quakers Yard Land Remediation
Aerial Photo: Circa 1970s - Looking North/Northeast
History of the site 
The former Quakers Yard Gasworks site was operational from around 1900 to around 1950. At one time, there were three gasholders' tanks used for storing gas produced on site. Two of these were below-ground gasholders, and one was an above-ground gasholder.
The site is 0.54 hectares – three- quarters the area of a rugby pitch.  The site contains dense woodland and a cycle path/ bridalway crossing the north-eastern portion. River Bargoed Taff runs along the site's southern boundary.
Our work in Quakers Yard
We know our work can be disruptive, so we have worked closely with Merthyr Tydfil County Borough Council to plan the work and keep disruption to a minimum.
Our team will be carrying out tree and vegetation clearance works between 4 December and 22 December ahead of our main works. The footpath will be closed while we carry out the work to keep everyone safe. 
Our contractors, Englobe, will be now be on site to carry out the main works in Spring 2024, Monday to Friday between 7:30am - 6pm. Any noisy work will only occur between 8am - 5pm.
We currently do not have any plans to work on weekends. However, we will update as soon as possible should an occasional need arise.
What this means for you
In order to complete the work as safely and as quickly as we can, we will need to gain access to the site from the car park in Treharris.
Between 4 December 2023 and 22 December 2023, and between May 2024 and August 2024, the cycle track (Sustrans Route 47), which runs from the car park down to the site and across the footbridge to Mill Street, will be closed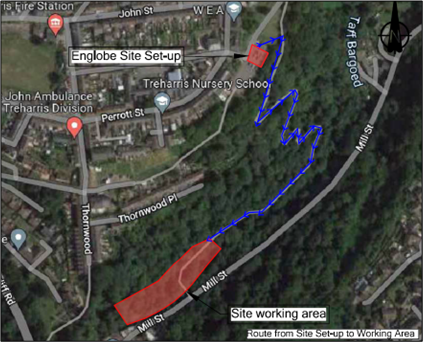 Site map
Future use of the site
We have been in close discussions with Merthyr Tydfil County Borough Council regarding potential future use.
There are no plans to build on site but rather preserve the site as a Public Open Space with enhanced natural features and with the cycle track/footpath remaining. 
Part of the work will include a sustainably engineered solution to protect the site from ongoing riverbank erosion.  We aim to incorporate as much natural materials as possible into the design and provide habitat enhancement.
Any questions?
If you have any questions our Customer Service Team is ready to take your call. You can contact them on 0800 912 2999 or by enquiries@wwwutilities.co.uk. Alternatively, you can contact us on X, formally known as Twitter @WWUtilities or Facebook.com/wwutilities.
Thank you for your patience and understanding. We're doing our best to complete our remediation work in your area as smoothly as possible.