Wales & West Utilities signs Armed Forces Covenant
Posted on: 26/06/2019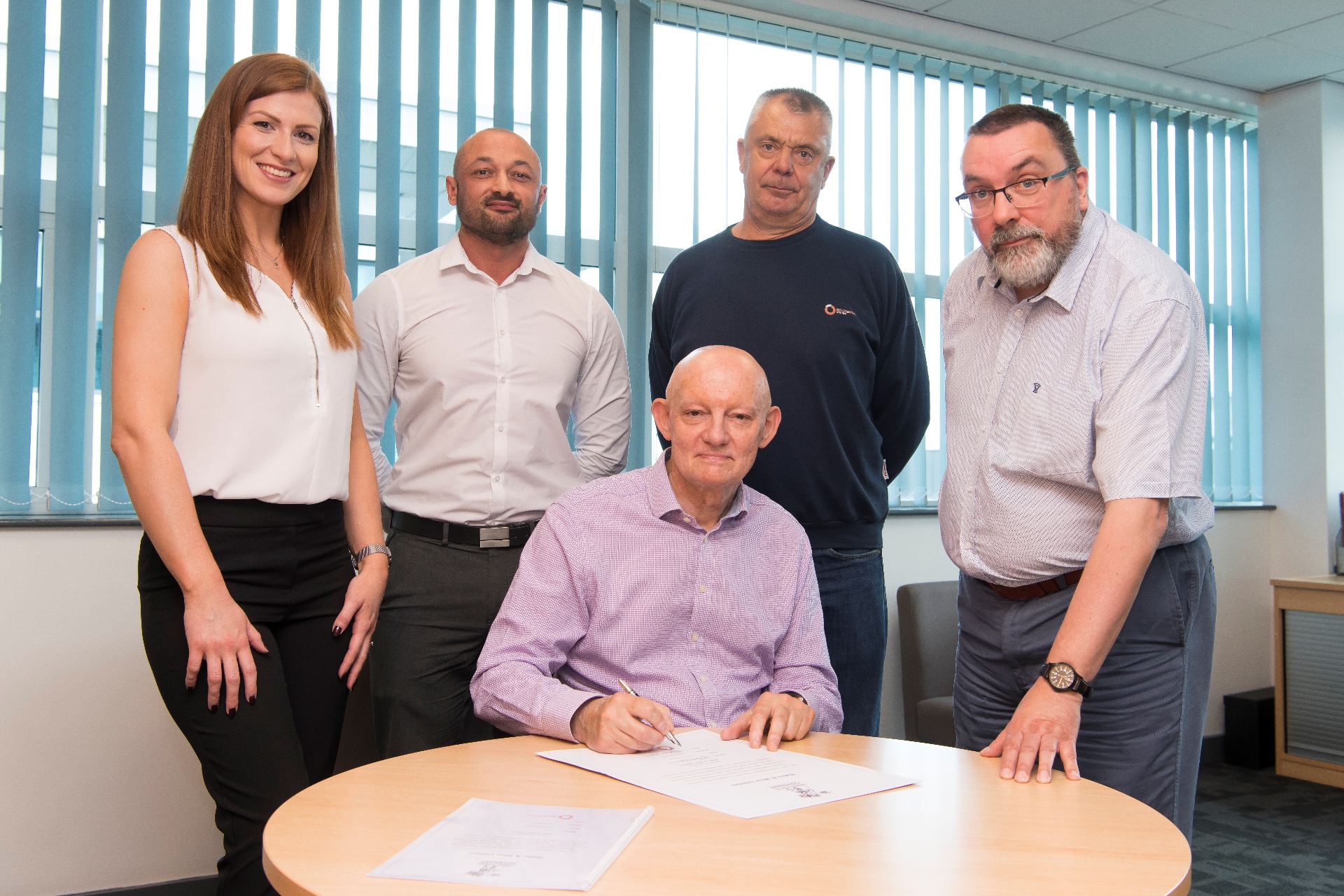 L-R Wales & West Utilities Rachel Jones (Programme Manager), Kyle McCue (Ex-Armed Forces and now Non-Transportation Billing Clerk), Graham Edwards (Chief Executive), Simon Holbrook (Ex-Armed Forces and now E&I Network Technician), Nick Carter (Administration Assistant)
Wales & West Utilities has signed the Armed Forces Covenant to further strengthen its commitment to supporting the military community and their families.
The signing coincides with Armed Forces Day (29 June 2019) which is celebrated across the UK every year and provides a chance for the public to show their support for the men and women who make up the Armed Forces community, including their families, veterans and cadets.
The latest pledge by the gas emergency and pipeline service builds on its existing partnership with Business in the Community (BITC), which enables the company to capitalise on military talent to develop a pipeline of ex-forces veterans to strengthen its business.
Wales & West Utilities Chief Executive Graham Edwards put his name to the Covenant on behalf of all colleagues to affirm the company's commitment to be a welcoming and inclusive employer of former army, air force and navy personnel.
Wales & West Utilities People & Engagement Director, Sarah Hopkins, said:
"We are proud to be a company that supports the Armed Forces community and the signing of the covenant demonstrates our commitment to this important sector of society.
"As a company we can support people moving from the Armed Forces into civilian life, chiefly through offers of employment, something the services will promote when talking to those leaving their military life behind.
"Those in the Armed Forces have skills working both in teams and as self-starters and these can often mirror the work our engineers carry out.
"Whereas historically people might not have wanted to shout about their military past, we believe it's something to celebrate. Times are changing and by signing the Covenant we're showing we want to help those who've served."
The Armed Forces Covenant is a promise from the nation that those who serve or have served in the UK Armed Forces, and their families, are treated fairly.
One colleague to join the company after serving in the Armed Forces is Kyle McCue, who now works as a Non-Transportation Billing Clerk in the company's Newport headquarters. He said:
"I consider myself lucky - I always wanted to be in the Army which I went straight into from school. After six years' service I came out and almost immediately got a job with Wales & West Utilities.
"It can be a bit daunting at first but there are many parallels working in this business – operating in small teams in critical safety for the public good, getting the job done and having strong work ethic. I think it fitted with my skills really well.
"I've served in Germany, Kosovo and Iraq but have come full circle back to Wales. I've had great support, be it from family, friends or the Army's resettlement programme.
"I think the company's official recognition of the military and its personnel is a great move. When most people leave the army, they don't know what to do, so having a company willing to say 'you could have the qualities we need' will be very welcome to many, I'm sure."
Wales & West Utilities, the gas emergency and pipeline service, brings energy to 7.5m people across the south west of England and Wales. If anyone smells gas, thinks they have a gas leak, or suspects carbon monoxide poisoning, they should call us on 0800 111 999 and our engineers will be there to help, day or night. 
The company also has a multi-million pound, 30-year gas pipe investment programme which began in 2002. Old metal pipes within 30 metres of buildings are being upgraded with new long-lasting plastic pipes with a lifespan of more than 80 years, to make sure homes and businesses continue to receive a safe and reliable gas supply now and in the future.