Somerset's American Football team secures sponsorship
Posted on: 28/05/2019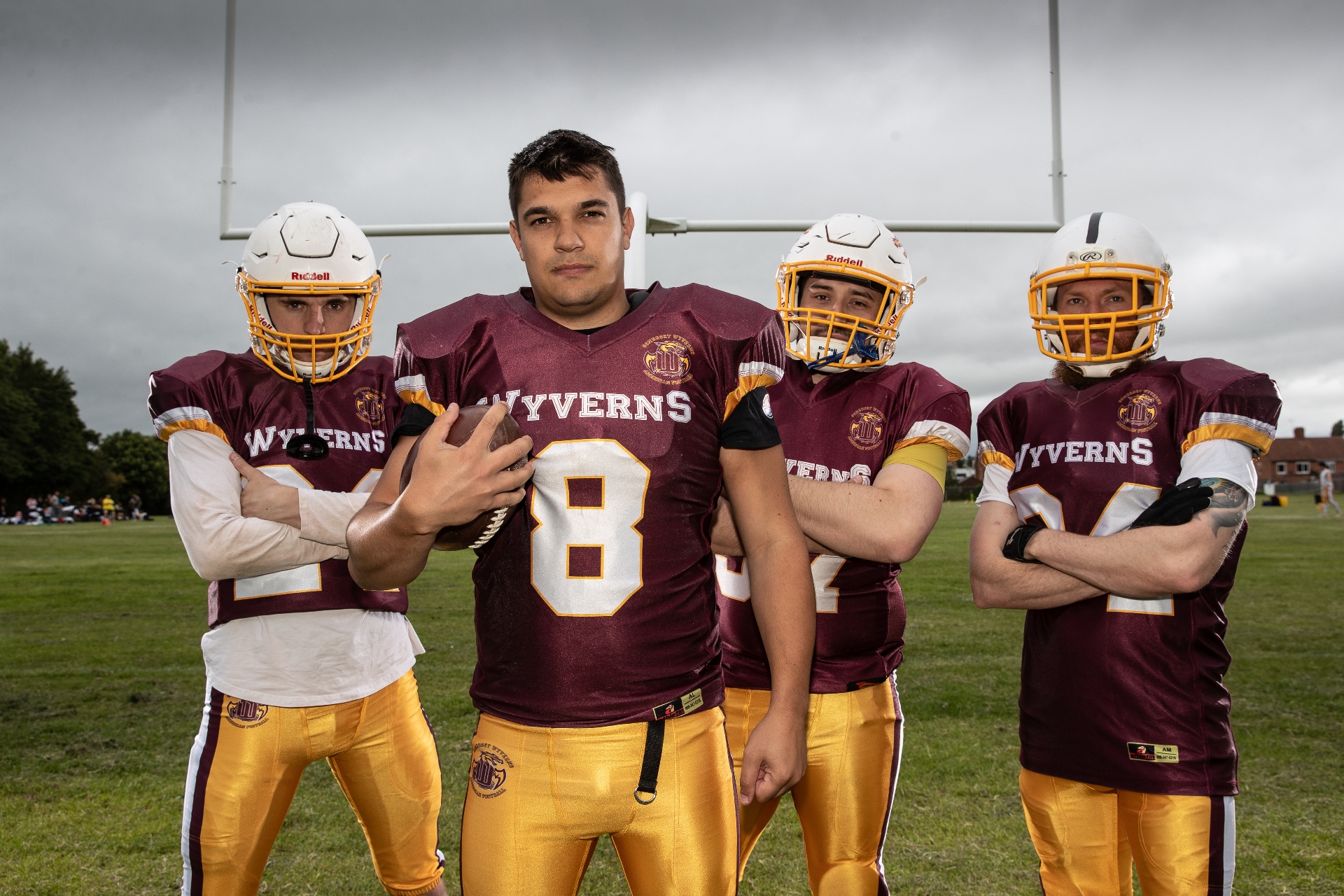 Gas emergency and pipeline service, Wales & West Utilities, is sponsoring Somerset Wyvern's American Football Club.
The club, currently the only one of its kind in the county, has been given a helping hand by Wales & West Utilities as it looks to widen its appeal to other keen players.
Last year the Somerset Wyvern's American Football Club successfully completed its first season in the British American Football Association Division 2, and the sponsorship will go some way to helping the Club continue that success for seasons to come.
Wales & West Utilities has sponsored the side after its Transport Technical Assistant, Steve Pettiford who plays and travels to the Club each week from his home in Cardiff, approached them for support.
Steve, 28, explains:

"American football has a wide appeal, but the clubs aren't there in the same way as other sports which is why I travel to Somerset each week.
"The committee have worked hard to build up the club, working towards league status which was granted last year. This is our second season of playing in the BAFA league and this sponsorship will help us with our ongoing running costs."
The side received £250 from Wales & West Utilities as part of its continued investment in the communities which it serves.

Steve continued:
"We're working hard to recruit more players to our adult and, more recently launched, youth contact teams. I got into playing American football during university and absolutely love the game and the opportunities it brings. With this sponsorship we hope that more people locally will be able to experience the game!  
"On behalf of everyone at the club I'd like to say thank you to Wales & West Utilities for supporting our team."
Sarah Hopkins, Wales & West Utilities People & Engagement Director, said:
"Our services play a key role in heating and powering homes and businesses, but we're also committed to supporting the communities we serve in other ways. Fundraising and charitable giving is a key part of this.
"We are pleased to support the commitment of our colleagues and hope that Steve and all at Somerset Wyvern's American Football Club will benefit from this sponsorship."
Wales & West Utilities, the gas emergency and pipeline service, brings energy to 7.5m people across the south west of England and Wales. If anyone smells gas, thinks they have a gas leak, or suspects carbon monoxide poisoning, they should call us on 0800 111 999 and our engineers will be there to help, day or night. 
The company also has a multi-million pound, 30-year gas pipe investment programme which began in 2002. Old metal pipes within 30 metres of buildings are being upgraded with new long-lasting plastic pipes with a lifespan of more than 80 years, to make sure homes and businesses continue to receive a safe and reliable gas supply now and in the future.