Safety Seymour helping to keep Tremains Primary pupils safe
Posted on: 01/10/2018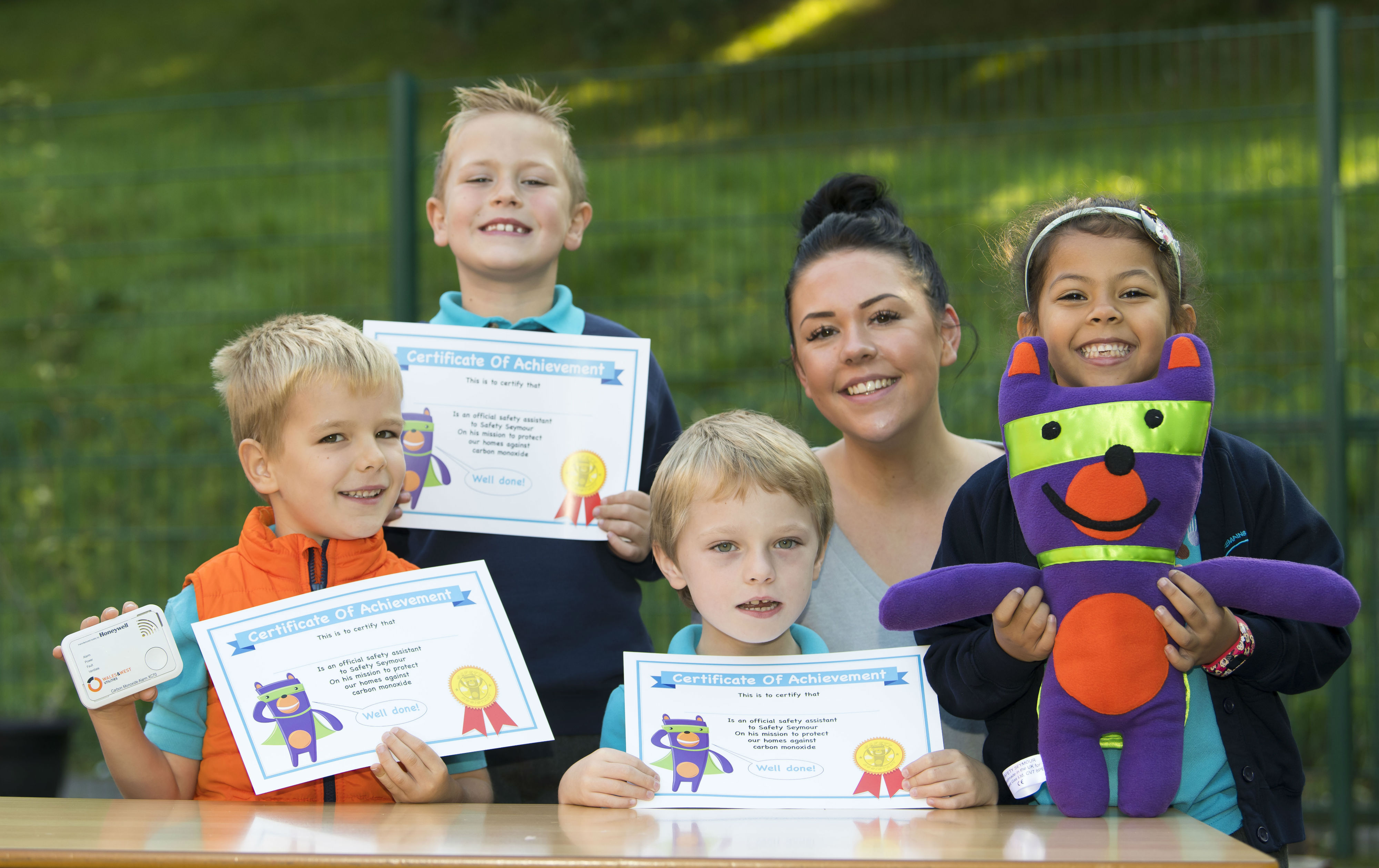 Wales & West Utilities Paisley Henderson with Tremains Primary pupils and Safety Seymour
Bridgend's Tremains Primary School has become one of the first schools in Wales to benefit from an educational, interactive carbon monoxide session – with pupils taking home vital safety tips to their loved ones.
Wales & West Utilities, the gas emergency and pipeline service for the area, delivered the session, with the help of a bear named Safety Seymour, to raise awareness of the dangers carbon monoxide (CO) poses.
The session, aimed at year two pupils and aligned to the National Curriculum, saw Wales & West Utilities colleagues work with Safety Seymour to interactively discuss the dangers of carbon monoxide in and around the home. The day explored the simple steps people should take to stay safe through a variety of exercises which included interactive videos, games, and drama.
Clive Book, Head of Emergency Services at Wales & West Utilities, said:

"Research shows that families with children are amongst the most vulnerable and at risk of CO poisoning. These sessions are aimed directly at youngsters and through teaching them how to stay safe, they can take the important messages back to their families and loved ones – particularly important with many people now turning their heating on for the first time this year."
Safety Seymour is a national initiative that has been created to help engage with children in a fun way about carbon monoxide. You can find more information on carbon monoxide poisoning on Wales & West Utilities' website www.wwutilities.co.uk
Schools wishing to book a Safety Seymour session can contact gasambassador@wwutilities.co.uk 
Wales & West Utilities has a team of more than 1000 trained and experienced engineers to help serve the 7.5m people across the south west of England and Wales that rely on its gas emergency and pipeline services. If anyone smells gas, thinks they have a gas leak, or suspects carbon monoxide poisoning, they should call us on 0800 111 999 and our engineers will be there to help, day or night. 
Our team is also working on a multi-million pound, 30-year gas pipe investment programme which began in 2002. Old metal pipes within 30 metres of buildings are being upgraded to new long-lasting plastic pipes with a lifespan of more than 80 years, to make sure homes and businesses continue to receive a safe and reliable gas supply now and in the future.