Partnership improves the lives of older people in Wales
Posted on: 05/12/2018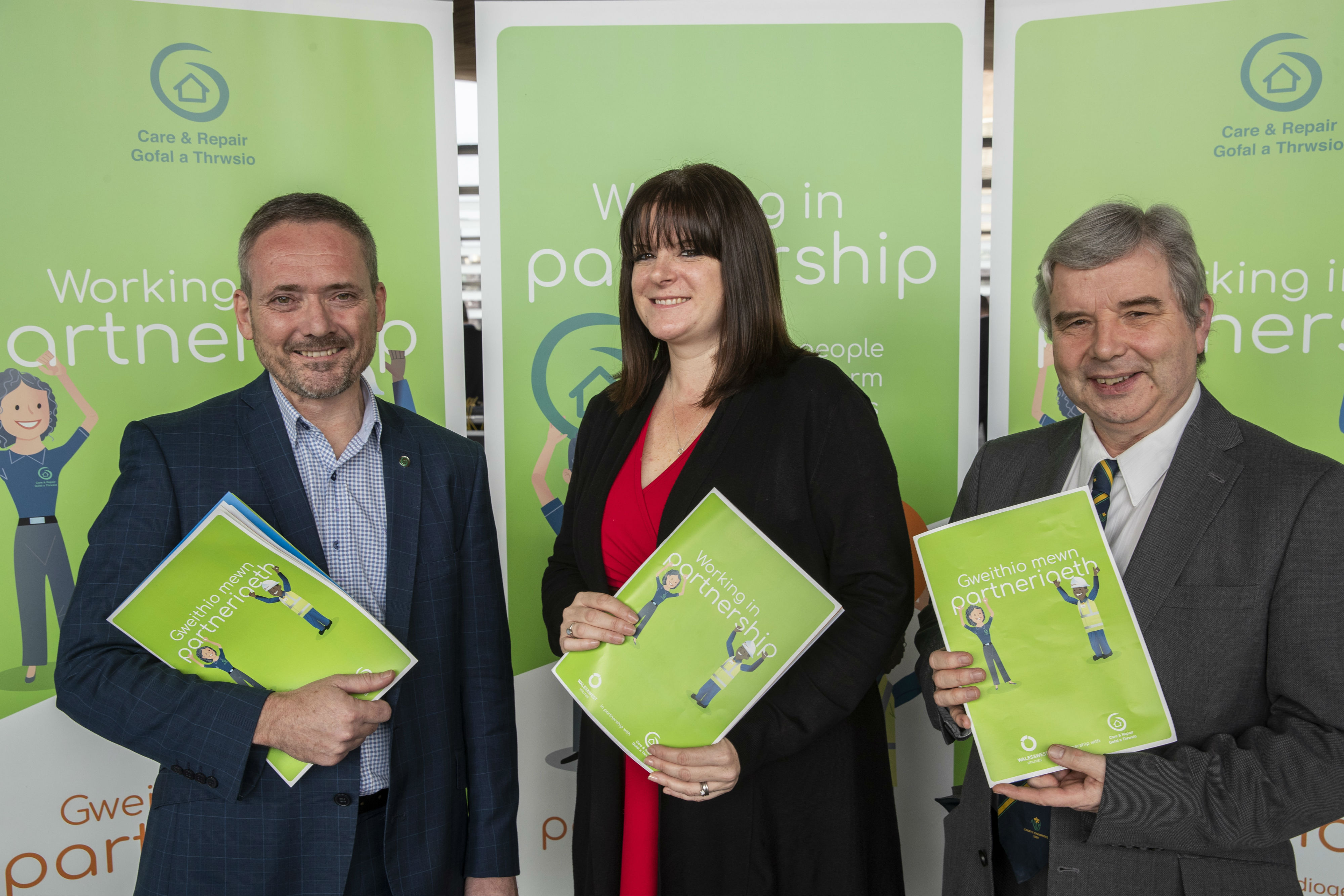 A partnership between two of Wales' leading organisations was celebrated this week after their dedicated work has led to the lives of over 800 older people living in vulnerable circumstances being improved in just one year.
Wales' older people's housing champion, Care & Repair, and the gas emergency service, Wales & West Utilities, came together a year ago in a bid to reach the most vulnerable people in society and provide them with better support and improved access to both organisations' services.
In an event sponsored by Dr Dai Lloyd AM and held at the Senedd (Monday 3 December) the organisation's highlighted the impact the partnership is having on the lives of some of Wales' most vulnerable people.
Chris Jones, Care & Repair Cymru CEO, said:
"By working together we are helping people across the country to see if they are entitled to additional support regarding gas and home safety, energy efficiency home upgrades, tariff switching, income maximisation and debt advice.
"Working with Wales & West Utilities we have already fitted over 820 carbon monoxide alarms in the homes of older people in vulnerable situations to help keep them safe, whilst we have also found that, through our work, the awareness of the dangers of carbon monoxide poisoning has increased to 69 per cent.
"We want to enable older people to live independently at home for longer and this partnership is helping us to ensure our clients are kept safe."
Wales & West Utilities People & Engagement Director Sarah Hopkins added:

"We're committed to keeping the communities we serve safe and warm. Our partnership with Care & Repair is helping us to further reach older and vulnerable people that we wouldn't be able to otherwise. 
"We're proud that the partnership has delivered so much in just one year and we are looking forward to it continuing."
At the event Dr Dai Lloyd, Plaid Cymru AM, said:
"This innovative partnership between two of Wales' leading organisations is delivering impact and is benefitting some of Wales' most vulnerable people by helping them to remain safe in their own homes. I am delighted to have sponsored the event and look forward to seeing how the partnership grows in the future."
As well as fitting audible carbon monoxide alarms and providing safety information, the partnership has also helped nearly 730 vulnerable people to sign up to the Priority Services Register which ensures that they receive appropriate support in the event of a gas or electricity supply interruption.
Kelly Watkins, Care & Repair Caseworker has been working with clients to provide them with support and advice and said:

"The ability to issue carbon monoxide alarms as well as the added value of signing people up to the Priority Services Register (PSR) is key in delivering our services to ensure older people are living in safe homes. So many older people we visit are being told they don't need CO alarms if they have a new boiler, but Wales & West Utilities awareness training has provided Caseworkers across Care & Repair Cymru with the knowledge and confidence to issue the alarms and, more importantly, raise awareness of the advantages of signing up to the PSR."
Care & Repair is Wales' older people's housing champion which has been working for over 30 years to provide services that help older people live independently at home. Care & Repair Cymru is the national body leading the sector and representing Care & Repair agencies. The organisation speaks up on behalf of vulnerable, older people living in poor housing.
Wales & West Utilities, the gas emergency and pipeline service that serves Wales and the south west of England, puts customers at the heart of the business and is rated the top utility company in the UK for customer service. If anyone smells gas, thinks they have a gas leak, or suspects carbon monoxide poisoning, they should call us on 0800 111 999 and our engineers will be there to help, day or night. 
The company also has a multi-million pound, 30-year gas pipe investment programme which began in 2002. Old metal pipes within 30 metres of buildings are being replaced with new long-lasting plastic pipes with a lifespan of more than 80 years, to make sure homes and businesses continue to receive a safe and reliable gas supply now and in the future.