Newport pupils given a work taster
Posted on: 21/02/2019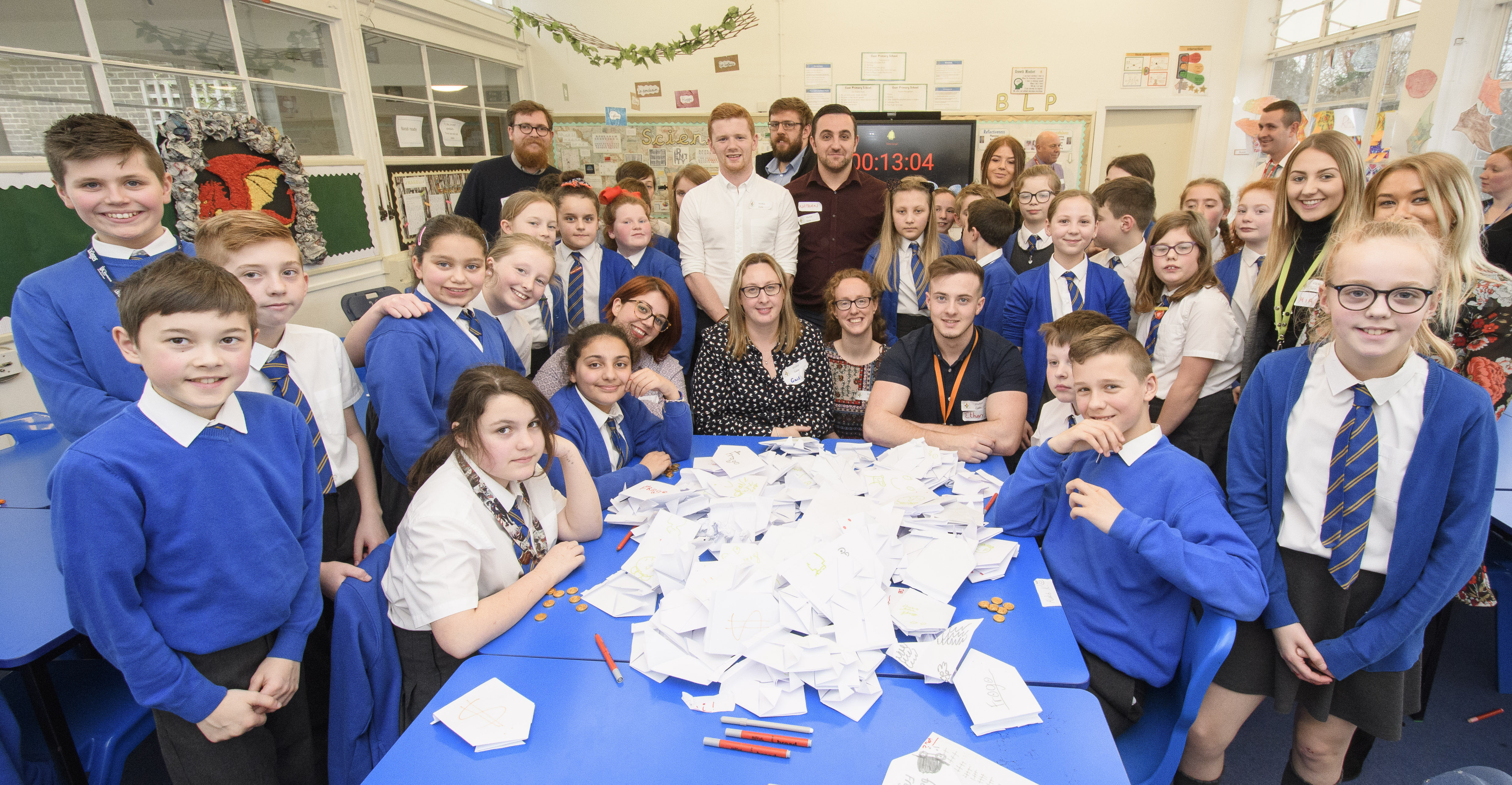 Children from Newport have been introduced to the world of work through a partnership between Business in the Community (BITC) and Wales & West Utilities.
Fifty pupils from Gaer Primary School spent the day testing their creative, marketing and sales skills as part of an enterprise challenge which saw a dozen Wales & West Utilities volunteers support and guide independent and group thinking. 
As part of the event, teams competed to develop businesses making and selling paper hopping frogs. They spent time working together to come up with a business name before designing a logo and buying the resources to allow them to get their businesses off the ground. The challenge focussed on helping the year 6 pupils to recognise the various contributions individuals can make to a team effort.
Nigel Winnan, Wales & West Utilities Customer & Social Obligations Manager, helped lead the day and said:
"We were delighted to spend time with Gaer Primary pupils, introducing them to the world of work. All got a great deal out of the event, which helped them learn how to approach different tasks and the various skills needed to make a business a success.
"The event was a fun day but had a serious message. It was a great way of increasing pupil's awareness of the skills and attitudes needed in the workplace.
"As a company we are committed to making a difference to the communities in which we work and we're proud to be supporting Business in the Community." 
Headteacher at Gaer Primary School, Mr Alex Smith, said:
"On behalf of pupils, parents and teachers I'd like to thank you BITC and Wales & West Utilities for contributing to such a fantastic day. The workshops were great, and all volunteers were very positive in their interaction with the children.
"It is great for the children to engage with other adults from the business world and I was delighted to see how much enjoyment they had and the high levels of engagement."
Matt Appleby, Director, BITC Cymru said:
"Thanks to responsible businesses like Wales & West Utilities, we are able to give pupils throughout Wales their first taste of the world of work. It is great that we can offer these experiences to primary pupils to inspire them early to start thinking about the ever-growing range of career opportunities that will be available to them.
"Activities like these underline the benefits to both employees and schools from increased business support for enterprise education."
Wales & West Utilities, the gas emergency and pipeline service, brings energy to 7.5m people across the south west of England and Wales. If anyone smells gas, thinks they have a gas leak, or suspects carbon monoxide poisoning, they should call us on 0800 111 999 and our engineers will be there to help, day or night.
The company also has a multi-million pound, 30-year gas pipe investment programme which began in 2002. Old metal pipes within 30 metres of buildings are being upgraded with new long-lasting plastic pipes with a lifespan of more than 80 years, to make sure homes and businesses continue to receive a safe and reliable gas supply now and in the future.