Newport partnership proves fruitful
Posted on: 14/03/2018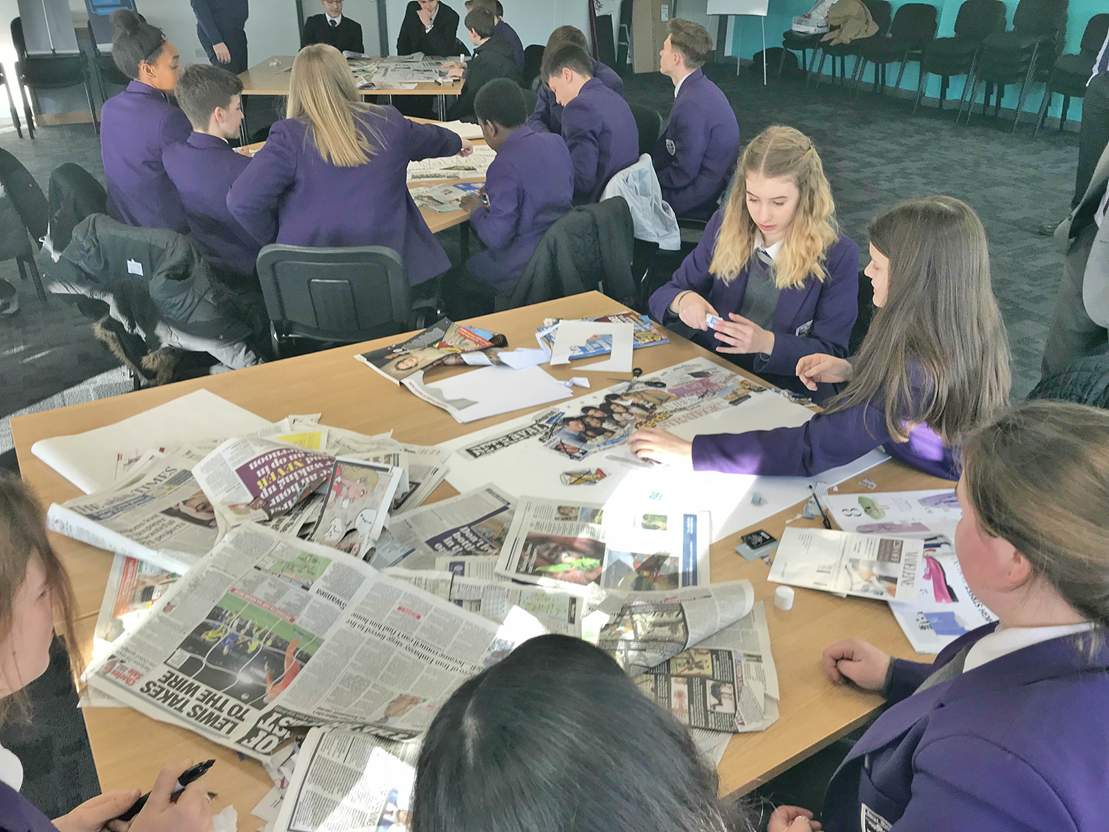 A partnership between Newport's John Frost School and Wales & West Utilities is proving fruitful, as the gas emergency and pipeline service is further assisting the secondary school to build on its ambitions, priorities and values.
The company, based in Celtic Springs, has partnered with John Frost School since 2014 through Business in the Community's Business Class Partnership Programme. This new project is seeing the company share its own best practice and experience amongst 28 pupils, aged 11-18, who are working together to define the school's mission and ambitions.
The project was kickstarted when three Wales & West Utilities colleagues, from across the business, led an interactive workshop to help pupils think about what John Frost School stood for and what makes it unique.
After a successful session, the plan is to hold another session which will see the company work directly with staff and teachers to further develop the ideas.
Over the past few years Wales & West Utilities has linked with John Frost School on a number of initiatives – all which benefit pupils directly. To date the company has carried out CV writing courses, careers advice workshops and runs a weekly reading buddy scheme, where staff go into the school to help 11-13 year olds with their literacy.
Mark Tucker, headteacher at John Frost School, said he was sure the partnership between the school and Wales & West Utilities is helping those pupils working on the school's mission and ambitions statements to come up with some fresh ideas.
"We have had a long-standing partnership with Wales & West Utilities and their help in encouraging pupils to contribute to the definitions for our mission and ambitions statement is very welcome.
"The new interactive workshop proved popular with those who took part and gave our pupils food for thought on how they see the school progress in the future in a way that will inspire all our pupils to take an active part in school life."
Chris Pugh, Programme Manager at Wales & West Utilities, was involved in this initiative and said:

"As a company we have worked hard to define our own mission, ambitions, values and priorities and they are now very much part of our culture. It's important to have these as they define an organisation – in much the same way as they do a person. It's fantastic that John Frost School have looked to us to share our experiences, so that they too can further the school.
"We are delighted to have been able to work directly with pupils from across the school on this first phase of a project and they have some great ideas, which will be taken forward in our next stage of work with teachers and staff at the school."
Wales & West Utilities, the gas emergency and pipeline service that serves the south west of England and Wales, puts customers at the heart of the business and is rated the top utility company in the UK for customer service. If anyone smells gas, thinks they have a gas leak, or suspects carbon monoxide poisoning, they should call us on 0800 111 999 and our engineers will be there to help, day or night. 
The company also has a multi-million pound, 30-year gas pipe investment programme which began in 2002. Old metal pipes within 30 metres of buildings are being upgraded to new long-lasting plastic pipes with a lifespan of more than 80 years, to make sure homes and businesses continue to receive a safe and reliable gas supply now and in the future.