New kit sponsors back Albion Rovers
Posted on: 19/12/2018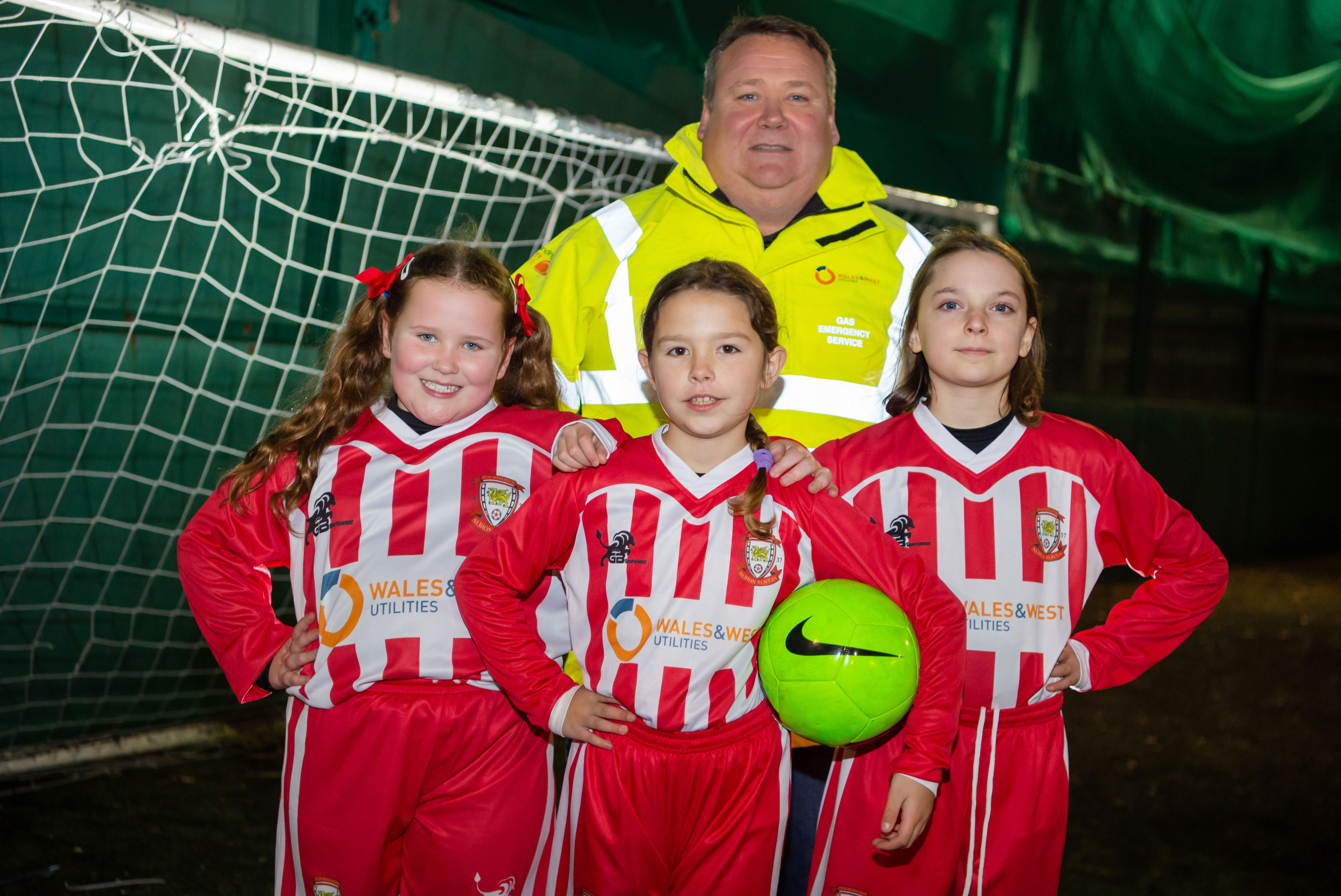 Wales & West Utilities is putting some power into Albion Rovers Under 10 girls' side after becoming the main sponsor of the side and providing them with a brand-new kit.

The gas emergency and pipeline service, based in Newport's Celtic Springs, has sponsored the local side as part of its continued investment in the communities in which it works.
Wales & West Utilities Robert Williams, the company's Operations Health, Safety and Environmental Manager, volunteers at the club. He said:

"My daughter, Maisie, has been playing for the club for a number of years and thoroughly enjoys it. Unfortunately, until now, we haven't had a sponsor and the team have played in a mismatch of kit."

Through Maisie's involvement at the club both Robert and his wife, Cheryl, volunteer throughout the season helping in setting up on match days at the team's base at Kimberley Park, providing first aid support, as well as helping with fundraising activities.
Robert added:

"For the girls to receive sponsorship and a brand-new kit from Wales & West Utilities is great – they are all really proud to wear the logo on their shirts.
"They're a committed and enthusiastic group of girls and having this new kit has given them a lot of motivation for the season. On behalf of everyone at the club I'd like to say thank you to Wales & West Utilities for supporting our community team."
Sarah Hopkins, Wales & West Utilities People & Engagement Director, said:
"We are pleased to answer Robert's call for help and support and would like to wish the girls the very best of luck for the rest of the season.
"We are committed to supporting the communities we serve in whatever way we can. We know how much sport can bring communities together and we're proud to sponsor Albion Rovers."
Wales & West Utilities has a team of more than 1000 trained and experienced engineers to help serve the 7.5m people across the south west of England and Wales that rely on its gas emergency and pipeline services. If anyone smells gas, thinks they have a gas leak, or suspects carbon monoxide poisoning, they should call us on 0800 111 999 and our engineers will be there to help, day or night. 
Our team is also working on a multi-million pound, 30-year gas pipe investment programme which began in 2002. Old metal pipes within 30 metres of buildings are being upgraded to new long-lasting plastic pipes with a lifespan of more than 80 years, to make sure homes and businesses continue to receive a safe and reliable gas supply now and in the future.