Helping disabled people across Wrexham through Covid-19
Posted on: 16/10/2020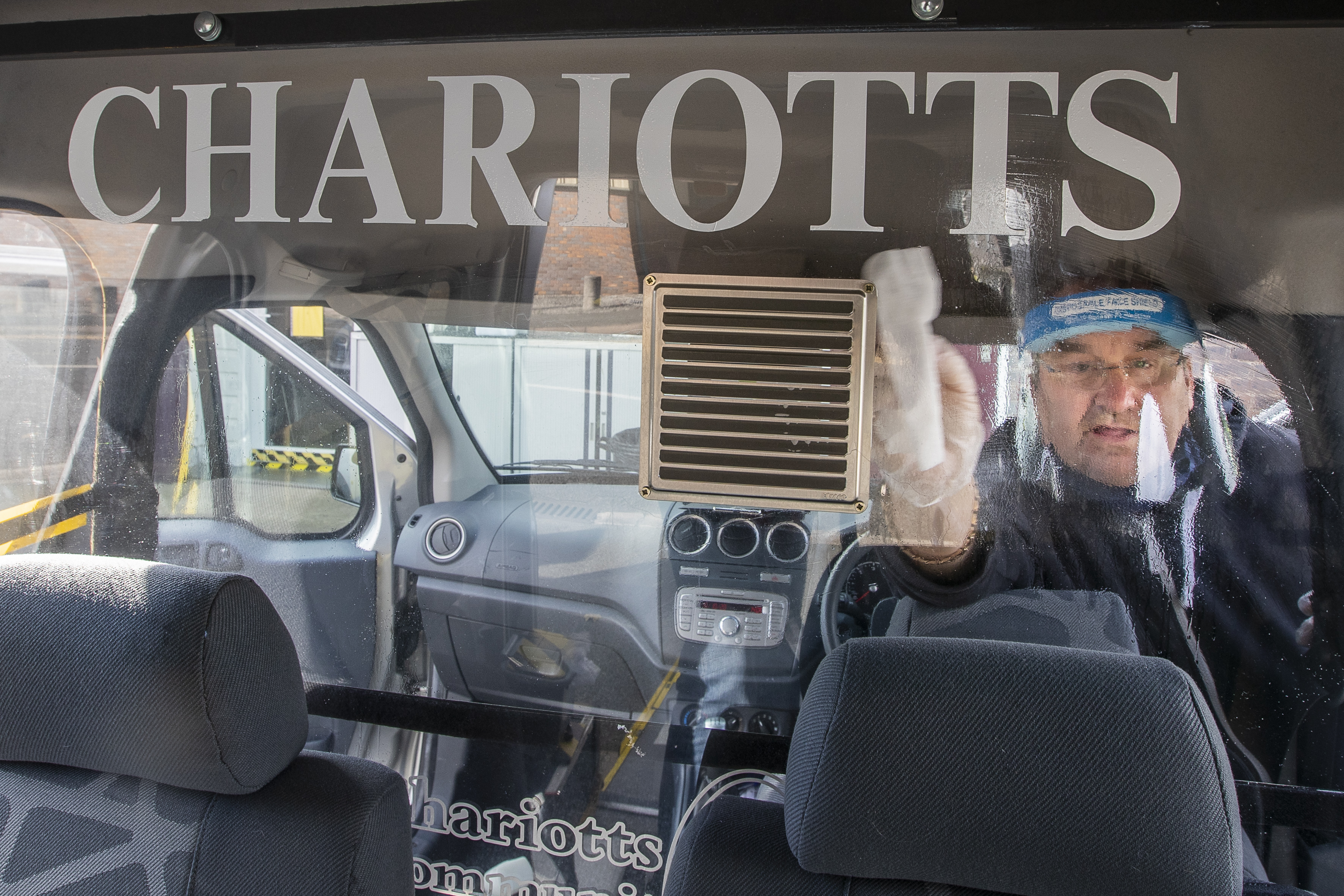 A charity that provides transport services for more than 1,100 disabled people across Wrexham has made their vehicles Covid-secure after receiving vital funding.
Chariotts, which delivers concessionary transport services to disabled and sensory impaired people right across Wrexham County Borough, quickly realised that they needed to adapt the way they delivered services so that people were not impacted by Covid-19.
The charity, based on the Whitegate Industrial Estate, received £3,000 from Wales & West Utilities Safe and Warm Fund, which allowed four of the organisation's vehicles to be adapted so they can continue to transport disabled people while keeping them safe during the pandemic.
The Safe and Warm Fund was designed to directly help those working in communities, targeting support at those who need it most.
We are delighted that the fund will now support so many organisations across our operating area, who like Chariotts, are helping local communities respond to Coronavirus.
Seeing communities come together to face the challenge of Coronavirus has been fantastic – and everyone at Wales & West Utilities is excited to see these projects come to life and how they will make a positive impact on the lives of people most in need.
"People across Wrexham have, for many years, relied on our services. We support people who find public transport difficult to navigate, helping them with the social and personal aspect of life. This can include trips to the doctors, supermarket, or to run errands
During Covid-19 our members need our support more than ever. We had to adapt – and quickly.
As a charity we are reliant on donations and so when we learnt of Wales & West Utilities Safe and Warm Fund, we applied.
This money has been fantastic and has meant that we can carry on supporting those in need. Without it, we simply wouldn't be able to run our services.
Our members feel safe during these worrying times and we've had nothing but praise from members, their families and the local community. On behalf of everyone that uses our services I'd like to thank Wales & West Utilities for their assistance in helping us to adapt.
Chariotts were successful in its application and received the funding to make the necessary adjustments to vehicles including installing Perspex safety screens between the driver and passengers, whilst the seating has been reconfigured to allow social distancing. PPE, cleaning and hygiene equipment has also been purchased so that the office and vans can be deep cleaned every day.
In these challenging times, safety is of paramount importance and this vital funding will inspire confidence, providing both passengers and the volunteer drivers with the reassurance they need.
I'm pleased Wales & West Utilities has chosen to support Chariotts. The charity plays such a crucial role in the local community and the investment will help them adapt and continue to provide an excellent service for the people of Wrexham.
Wales & West Utilities set up the Safe and Warm Fund to help organisations and charities directly respond to the Coronavirus pandemic. The gas emergency and pipeline service has been working hard throughout the pandemic to make sure people are kept safe and warm in their homes and opened the fund to help others in communities across Wales and the south west of England do the same.