Frome traders thank Wales & West Utilities for courteous working
Posted on: 18/02/2020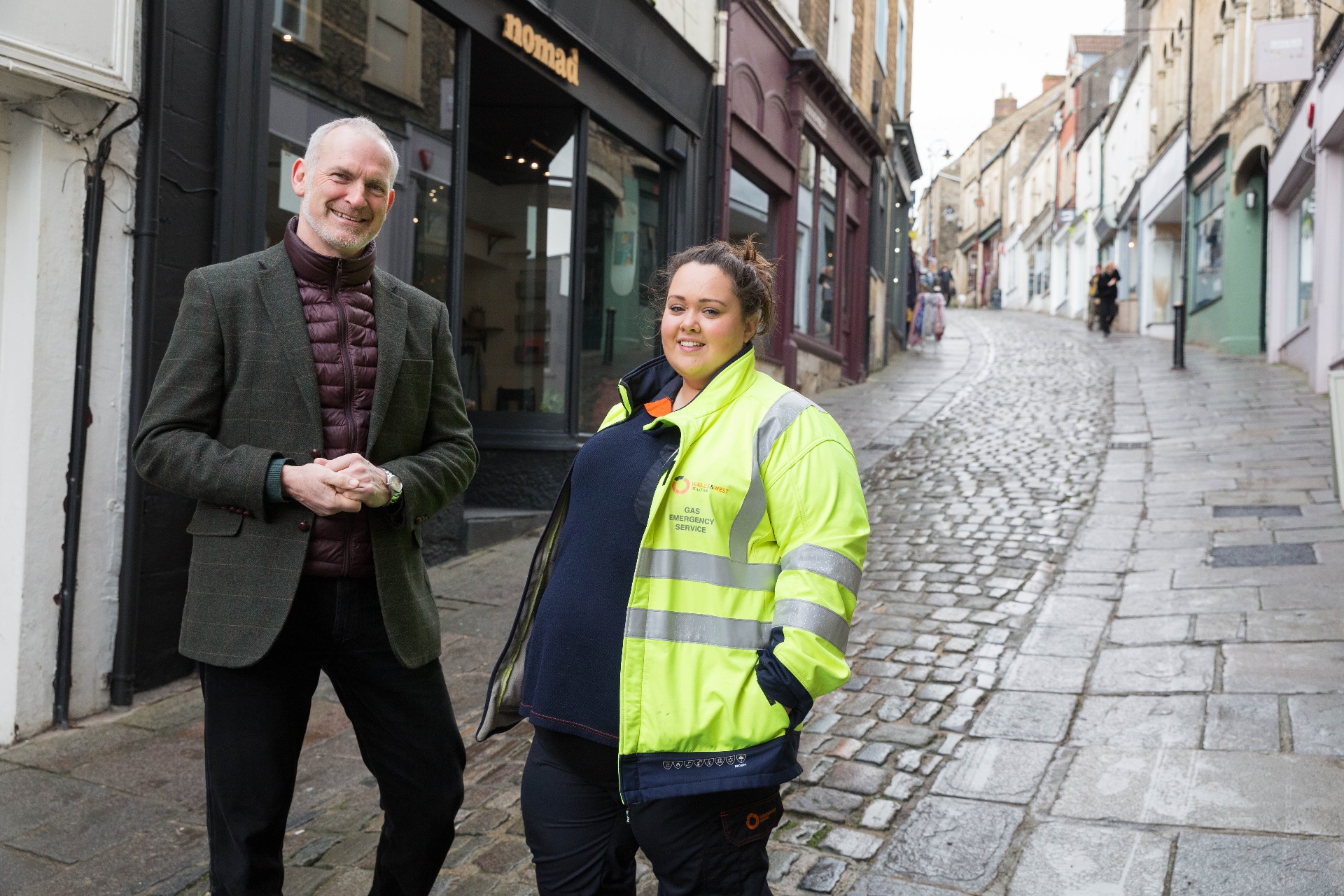 Wales & West Utilities complete Frome gas work on time
Traders in the Catherine Hill area of Frome are thanking Wales & West Utilities after essential gas works in the area have completed on time – and with much cooperation.
The scheme, which began on 6 January, involved a great deal of liaison with traders and the town council to accommodate the area's tricky terrain. With a cobbled road surface and no pathways, Wales & West Utilities engineers worked closely with shop keepers to keep disruption to businesses to a minimum while the essential gas pipe upgrade work was done. And when the work was finished, the cobbled street was restored to its previous glory.
The work on Catherine Hill was essential to keep the gas flowing to heat homes and power businesses in the area so that people are safe and warm for generations to come.
To plan the work Wales & West Utilities worked closely with Somerset County Council and Frome Parish Council, whilst it also held a drop-in event ahead of the work starting so that local people could find out more.
We're delighted to have finished this project on time and with minimum disruption to traders and shoppers. We've ensured that, by working in partnership, we've been able to complete this essential work and we'd like to thank everyone who lives, works and travels through the area for bearing with us.
We know that working in areas like this is not ideal, but it really is essential. This work will not only keep the gas flowing safely and reliably today, it will also help make sure the gas network is fit for the future and can play its part in delivering reliable and affordable green energy.
Wales & West Utilities have supported traders and have worked to marshal pedestrians and traffic, whilst providing specific customer support for deliveries. The company has also carried out work outside of shopping times so that traders are supported in their opening time patterns.
Catherine Hill is one if Frome's most iconic streets and is home to many independent businesses. This essential task had to be carried out and the liaison work carried out by Wales & West Utilities, prior to it commencing, allowed local traders to prepare for the disruption it inevitably caused.
Whilst the impact of the almost one month of groundwork was felt by many, in terms of reduced footfall, it was accepted that it had to be done.
The workmen on site had a very challenging job lifting most of the cobbles and many of the flagstones to lay the utility pipes. Despite at times working in very difficult weather conditions they maintained a highly professional and friendly presence throughout the job.
Wales & West Utilities, the gas emergency and pipeline service, brings energy to 7.5m people across the south west of England and Wales. If anyone smells gas, thinks they have a gas leak, or suspects carbon monoxide poisoning, they should call us on 0800 111 999 and our engineers will be there to help, day or night.
Our team is also working on a multi-million pound, 30-year gas pipe investment programme which began in 2002. Old metal pipes within 30 metres of buildings are being upgraded to make sure homes and businesses continue to receive a safe and reliable gas supply now and in the future.