Briton Ferry Llansawel AFC Ladies kitted out
Posted on: 08/11/2019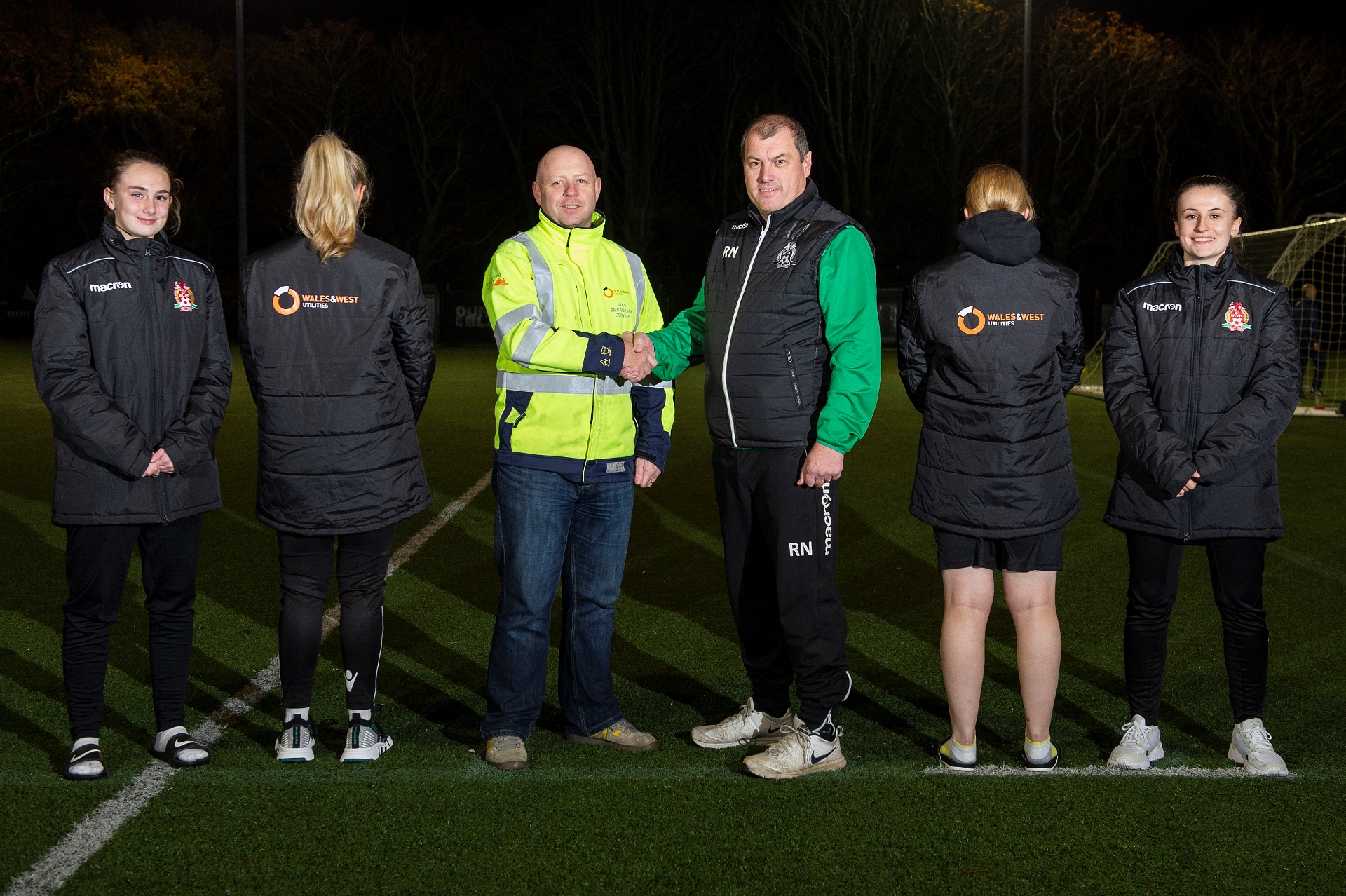 Briton Ferry Llansawel AFC Ladies have received a sponsorship boost from Wales & West Utilities.
The gas emergency and pipeline service for Wales and the south west of England has donated £300 as a result of one of its colleagues volunteering efforts, which has now allowed the club to purchase warm weather coats for their substitutes.
Wales & West Utilities Stores First Line Manager, Jonathan Hoskins, volunteers as a first aider for the ladies team, where he gives approximately 200 hours of his time, per year, to be on hand during games and training.
Now sporting all-weather coats featuring Wales & West Utilities logo, the substitutes can stay warm and dry on the side-lines.
Ross Norgrove, Manager at Briton Ferry Llansawel AFC Ladies, said:
"The team is now into its 7th season and we are playing against the best Welsh ladies' sides.
"Our ladies all play a monthly subscription to belong and play for the club and so this sponsorship is fantastic – without it, ladies would be required to pay more money to benefit from essential things such as kit.
"We are a local club so to receive donations like this is wonderful. On behalf of all our ladies I'd like to say a huge thank you to Wales & West Utilities for their support."
Jonathan commented:
"I do give up my time to volunteer at the club but it's something that I enjoy immensely. To have further backing from my employer is great and I know first-hand how much this donation means to the team."
This season Briton Ferry Llansawel AFC Ladies are playing in the Welsh Premier League, where they face teams such as Cardiff City FC and Swansea City FC.
Sarah Hopkins, Wales & West Utilities People & Engagement Director, said:
"We are committed to supporting the charitable and fundraising efforts of our colleagues and are delighted to support Jonathan and Briton Ferry Llansawel AFC Ladies in their quest for Premier League success.
"We wish them the best of luck in the future and look forward to following their success!"
Wales & West Utilities has a team of more than 1000 trained and experienced engineers to help serve the 7.5m people across Wales and the south west of England that rely on its gas emergency and pipeline services. If anyone smells gas, thinks they have a gas leak, or suspects carbon monoxide poisoning, they should call us on 0800 111 999 and our engineers will be there to help, day or night.
Our team is also working on a multi-million pound, 30-year gas pipe investment programme which began in 2002. Old metal pipes within 30 metres of buildings are being upgraded to make sure homes and businesses continue to receive a safe and reliable gas supply now and in the future.