Wales & West Utilities urges people to stay safe from the 'silent killer'
Posted on: 16/11/2015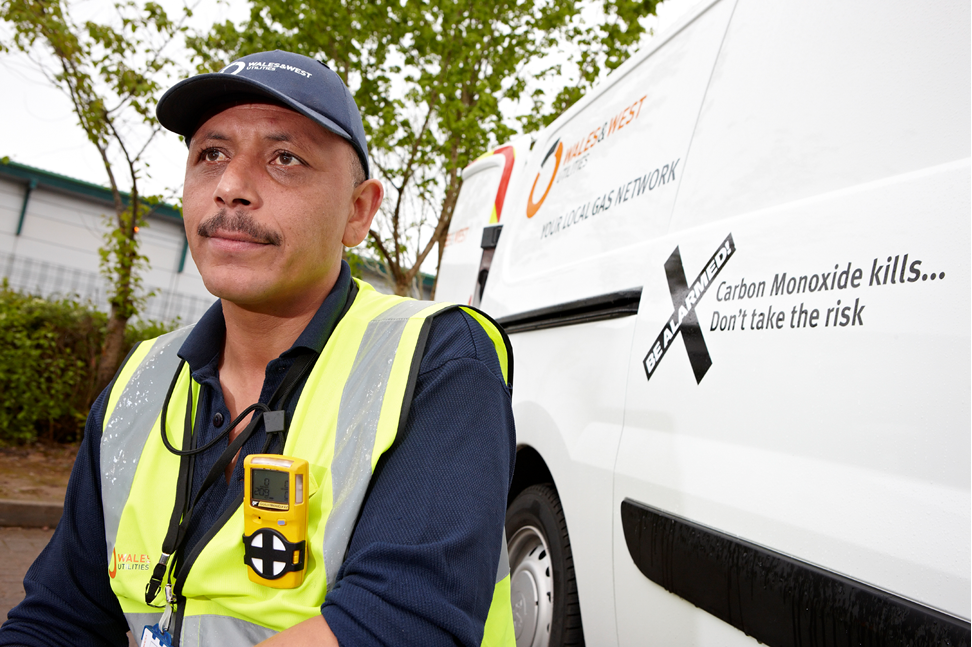 With winter quickly approaching, Wales & West Utilities is urging local people to take action and get their gas appliances checked to keep themselves safe from the deathly dangers of carbon monoxide.
The company, which runs the gas distribution network across Wales and the south west of England, is urging everyone to use Carbon Monoxide Awareness Week as an opportunity to make sure that those who are nearest and dearest to them are kept safe from the risk of carbon monoxide poisoning.
Carbon Monoxide Awareness Week is organised by the charity CO Awareness and takes place annually during the third week of November (16 – 22 November 2015). It aims to highlight the dangers of carbon monoxide poisoning and reduce incidents, fatalities and ill health related to the poisonous gas.
At this time of year and temperatures fall, many people will switch on their central heating or gas fires for the first time in months – without stopping to consider the potentially fatal consequences of an unchecked appliance.
Blocked chimneys and flues, lack of ventilation and faulty gas appliances, fires and central heating systems are some of the hidden causes of fatalities from poisoning by carbon monoxide, known as the 'silent killer'.
Wales & West Utilities is promoting a few simple steps which could prevent needless deaths or illness as a result of this poisonous gas.
To protect against the risk of CO, audible alarms are important but there is no substitute for getting all appliances, powered by any fuel that burns, serviced annually. Householders should also make sure that chimneys and flues are swept annually too.
In the UK alone each year around 40 people die and over 4000 are injured as a result of carbon monoxide poisoning.
Wales & West Utilities Head of Emergency and Metering Services, Clive Book, says:
"Carbon Monoxide Awareness Week is an ideal opportunity to remind people to get boilers and gas appliances serviced by a Gas Safe registered engineer which will help protect from carbon monoxide poisoning.
"Every year we make over 1,000 visits to properties where we find evidence of carbon monoxide. It is known as 'the silent killer' - you can't see, smell or taste it and it kills 40 people a year across the UK, injuring thousands more. Symptoms of carbon monoxide poisoning are often confused with flu, especially in winter, as they include severe headaches, a sore throat, dizziness, coughing, feeling sick, and a general lack of energy.
 "It's vitally important to employ a registered installer to carry out regular safety checks at your own home, or allow access to your landlord's gas engineer, and installing an audible carbon monoxide alarm can help too – it could literally save your life."
Signs to look out for that show there could be a risk of CO include:
Gas appliances burning with a lazy yellow or orange flame instead of crisp and blue
Increased condensation inside windows
Pilot lights blowing out frequently
Soot or yellow/brown staining around or on appliances
CO is emitted by faulty appliances powered by any fuel that burns – gas, coal, oil, petrol and wood. The symptoms from inhaling it include headache, dizziness, vomiting and shortness of breath. Sometimes people have 'flu-like' symptoms, but without the high temperature.
And if you do suspect CO poisoning, this is what to do:
Turn appliances off
Open doors and windows
Get everyone outside into fresh air immediately
Call the National Gas Emergency Service on 0800 111 999
And if there is a medical emergency, don't delay, 'phone 999
More information on carbon monoxide poisoning can be found on Wales & West Utilities' website www.wwutilities.co.uk.
Wales & West Utilities provides the gas emergency service across Wales and the south west of England. If anyone smells gas, thinks they have a gas leak, or suspects carbon monoxide poisoning, they should call us on 0800 111 999 and our engineers will be there to help, day or night.
The company is also carrying out a multi-million-pound 30-year gas pipe replacement programme, across Wales and the south west of England, which began in 2002. Old metal pipes within 30 metres of buildings are being replaced with new long-lasting plastic pipes with a lifespan of more than 80 years.