View Maps
View and search asset info
View maps
What area do we cover?
Whilst we have a UK-wide operating licence, our network currently covers Wales and the south west of England. Above you can access some maps of our network of pipes through a postcode checker tool.
If you're based outside of our area, please visit the Ofgem website to find out who your local gas network owner is.
To find out what's happening in your area, including information on local roadworks, visit the In Your Area page for real time information.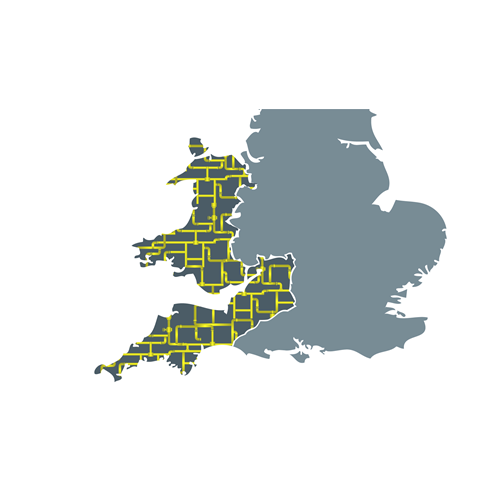 Dial Before You Dig
Wales & West Utilities Plant Protection
Before you start work on a public highway or on private land, please contact our Plant Protection team to check the location of the network of pipes in the area. We will need to see a scale drawing showing the location and extend of your works. We will typically respond to your enquiry within ten working days. For anyone who regularly needs to check our plans, we provide our maps to over 650 registered organisations. See below for details of how to access these maps. 
Plant Protection Hotline (Monday to Friday 08:30am to 4.30pm) - phone: 0292 027 8912 / fax: 0845 072 0852
Before working near our gas pipelines, we need to be notified at least ten days before any proposed works start, including solar farms and wind turbine installations. Before you start any work in any of our wayleaves or easements (special rights of way) you'll need to get formal written consent from our legal department. No work can be undertaken near, nor heavy plant or equipment moved over, any gas pipeline or apparatus until all the conditions specified by us have been met. All excavation work must be done in accordance with HSE publication HS(G)47.
Wales & West Utilities Maps
We also offer an online mapping service,similar to the one we use to produce plans. If you require regular access to our plans, you can apply for access through this website. This will enable you to search our network and produce scaled plans. The maps of pipe provide a guide for location, but in any circumstances its best to report your planned works to Wales & West Utilities' Plant Protection team to ensure your safety.
Protecting Plant
We have produced a safety video, 'Protecting Plant', which is also available on this website. This offers more in depth information on our Plant Protection process and outlines safety information relating to excavating and working near our plant.
Built Over Services
Whilst our plans do not generally show service pipes to individual properties, customers must not construct buildings or other structures over or around our pipes which risk compromising the pipes safety and prevent us from maintaining that pipe. Where we encounter these situations we will carry out a risk assessment. In high risk cases such as pipes operating at medium or intermediate pressure, or multiple occupancy buildings we may take immediate action to isolate the supply to remove the risk. the remedial works to put the service back to current standard will be fully chargeable to the property owner.