Wales & West Utilities thanks the people of Penyffordd
Posted on: 20/02/2017
Gas emergency and pipeline service Wales & West Utilities has donated £500 to local charity Tŷ Gobaith after celebrating completing its work to connect 60 Penyffordd homes to the mains gas network for the very first time.
The kind-hearted donation comes after Wales & West Utilities worked in the village for eight months to extend the gas network to the area and wanted to give something back to the local community to say thank you.
During its time in Penyffordd Wales & West Utilities used the ground next to Trinity Chapel as its base and through discussions with locals involved with the chapel it was decided to make the donation to the children's hospice.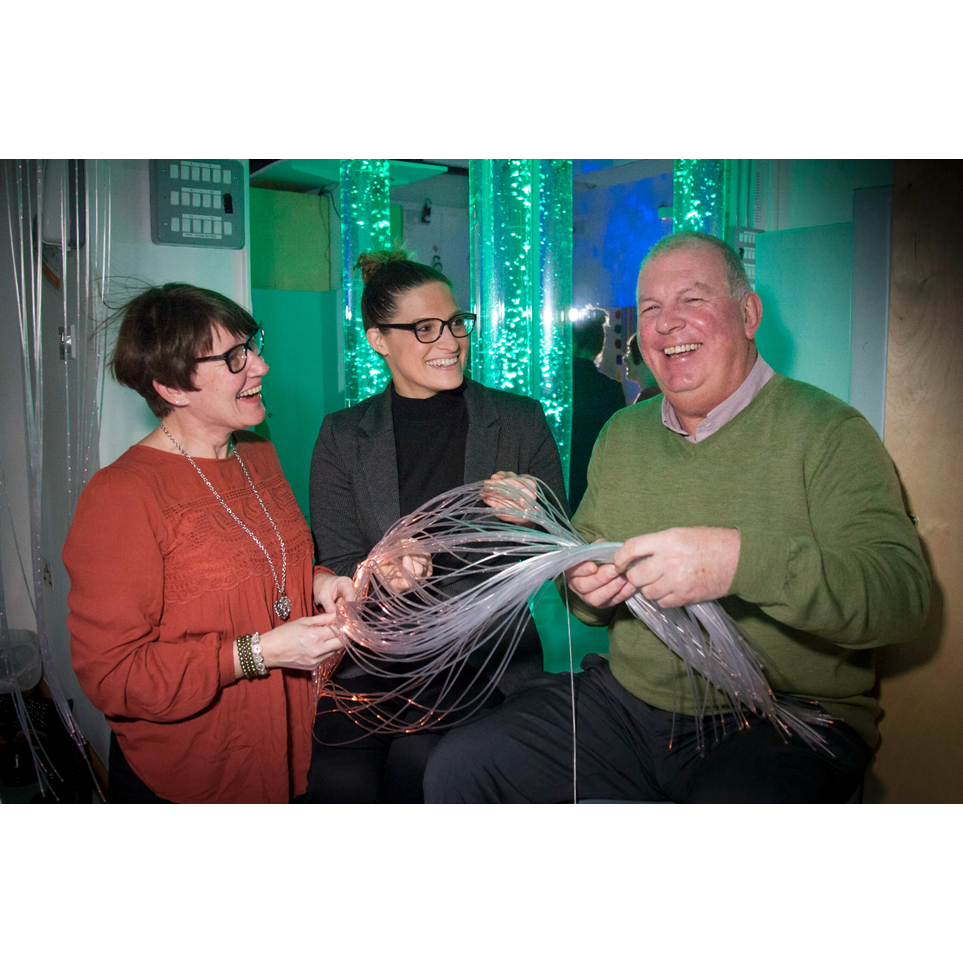 Picture caption: L-R Eluned Yaxley and Nicola Sciarillo, area fundraisers for Ty Gobaith and Wales & West Utilities Steve Watts

Situated in nearby Groesynydd, Tŷ Gobaith provides care and support to life-limited children, young people and their families from across North and Mid Wales, Shropshire and Cheshire. Its team provides respite and end-of-life care at the hospice and / or within the family home, whilst also providing support including counselling for as long as is needed.
Steve Watts, Wales & West Utilities Senior Operational Manager for North & Mid Wales, led the project in Penyffordd and has had involvement with Tŷ Gobaith in the past. He said:

"We were overwhelmed by the take up of households wanting to connect to the mains gas network and with our team having worked in the village for over eight months we wanted to say thank you to the people of Penyffordd for their patience.
"We were extremely grateful to the chapel for lending us the use of the land and so a donation to Tŷ Gobaith seemed a fitting gesture.
"I have worked hard to raise money for the hospice in the past and the work they do is vital for families at such a difficult time. We hope the £500 donation will go some way to helping the hospice providing this support to more families needing their services."

Nicola Sciarrillo, Area Fundraiser at Tŷ Gobaith said:

"We would like to thank Wales & West Utilities for their generous donation.  This support enables us to continue to provide care and support to the children and families who live within our local communities and it is wonderful to have the support of Wales & West Utilities."
The work to connect homes to the mains gas network was part of Wales & West Utilities Warm Home Assistance Scheme where financial assistance is provided for families will reap the benefits of reduced bills through connection to the mains gas network.
To date, the Warm Home Assistance Scheme has funded more than 13,000 new gas connections across Wales and the south west of England with some people also receiving further funding towards a central heating system and home insulation.
Wales & West Utilities, the gas emergency and pipeline service, brings energy to 7.5m people across the south west of England and Wales. If anyone smells gas, thinks they have a gas leak, or suspects carbon monoxide poisoning, they should call us on 0800 111 999 and our engineers will be there to help, day or night. 
The company also has a multi-million pound, 30-year gas pipe investment programme which began in 2002. Old metal pipes within 30 metres of buildings are being upgraded to new plastic ones to make sure homes and businesses continue to receive a safe and reliable gas supply now and in the future.