Wales & West Utilities supports fund to boost CO initiatives
Posted on: 02/03/2017
Wales & West Utilities has pledged its support for projects that raise awareness of the risks, dangers and symptoms of carbon monoxide (CO) poisoning. 
The gas emergency and pipeline service for Wales and the south west of England has joined forces with the other UK Gas Distribution Networks (GDNs) to launch the GDN Carbon Monoxide Charity Fund, which invites UK-based charities to apply for funding to support CO-related initiatives.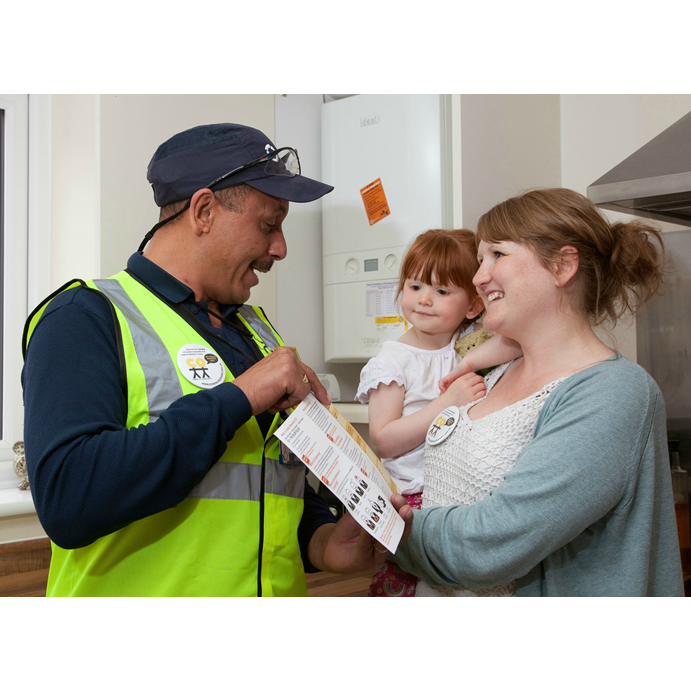 Wales & West Utilities First Call Operative Steve Brady talks Natalie and Amber through the dangers of carbon monoxide 
It is hoped the fund will encourage new and innovative ideas around raising awareness of the risks, dangers and symptoms of CO and the prevention of further CO poisoning cases in the UK.
Accidental CO poisoning results in recorded cases of around 40 deaths and 200 hospitalisations each year in England and Wales.
Applications will be accepted on an annual basis and one-off grants up to the value of £2,000 will be awarded from the fund. The deadline for 2017 applications is 17:00 on Wednesday 8 March.
Clive Book, Head of Emergency & Metering Services at Wales & West Utilities, commented:
"We are delighted to be working with the other UK gas distribution networks to support this important fund. We want to not only help charities, which already work on CO safety initiatives, but also engage new charities with fresh ideas.
"We look forward to receiving and considering all applications over the next few months."
Known as the silent killer because it cannot be seen, smelled or tasted, CO is the most common type of accidental poisoning.  It can lead to breathing, neuropsychological and cardiovascular problems and potentially death.
The Department of Health estimates around 4,000 people attending Accident and Emergency departments in the UK are diagnosed with CO poisoning.
Organisations are invited to apply via http://www.energynetworks.org/assets/files/news/releases-and-news/GDNs%20CO%20Charity%20Fund%20-%20Grant%20Application%20form.pdf
Wales & West Utilities, the gas emergency and pipeline service that serves Wales and the south west of England, puts customers at the heart of the business and is rated by the Institute of Customer Service as the top utility company in the UK for customer service. If anyone smells gas, thinks they have a gas leak, or suspects carbon monoxide poisoning, they should call us on 0800 111 999 and our engineers will be there to help, day or night. 
Further enquiries to Wales & West Utilities Press Office on 0800 644 1000