Wales & West Utilities kits out young women's football team
Posted on: 09/05/2017
Porth Ladies U14's football team faced their opposition in style this weekend after they scored a brand new training kit from Wales & West Utilities.
The gas emergency and pipeline service for Wales and the south west of England joined other donors in providing a £250 donation to the Porth squad so they could purchase matching training kit ahead of their game against Ely Rangers.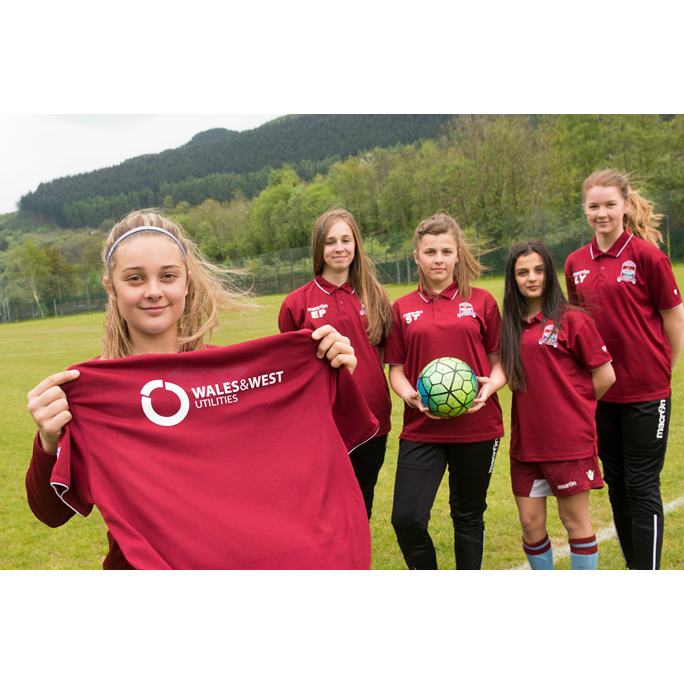 Picture caption: Wales & West Utilities kits out young women's football team  - Front left Tiegan Pugh Eynon,
Back left to right Ella Porter, Lauren Young, Jade Szigetvari, Sophie Tavener

Wales & West Utilities Business Performance Manager, Nicola Evans, whose daughter, Lois, plays for the team said:
"The team has been together for a number of years and is going from strength to strength. I know they're all really pleased with this kind donation from my employer – it's meant that, for the first time, the team can wear matching training kit.
"The team are delighted that Wales & West Utilities have provided the donation and it gave them a big confidence boost ahead of this game and they went on to win 10-1!"
Porth Ladies U14's recently put forward two teams and competed alongside over 40 teams in an annual tournament at Butlins, Minehead. The teams took first and second placein the tournament and are now looking forward to continuing their winning streak. As winners of the regional heat they will now join the other regional winners at St George's Park (Home to England's 24 national teams) in July to compete for the 'champion of champions' event'.
Sarah Hopkins, Wales & West Utilities People & Engagement Director, said:
"We are committed to supporting the communities we serve in whatever way we can. We have close links with the community in Porth and it's our pleasure to be able to be able to provide the donation to the football team – we wish them every success in the future and look forward to following their success!"
Wales & West Utilities is the current Business in the Community (BITC) Wales Responsible Large Business of the Year after being recognised for its commitment to responsible business and success in embedding responsible business practices throughout its operations.
Wales & West Utilities, the gas emergency and pipeline service, takes pride in serving Wales and the south west of England. If anyone smells gas, thinks they have a gas leak, or suspects carbon monoxide poisoning, they should call us on 0800 111 999 and our engineers will be there to help, day or night. 
The company also has a multi-million pound, 30-year gas pipe investment programme which began in 2002. Old metal pipes within 30 metres of buildings are being replaced with new long-lasting plastic pipes with a lifespan of more than 80 years, to make sure homes and businesses continue to receive a safe and reliable gas supply now and in the future.