Varteg firefighter receives boost from employer in raising money for charity
Posted on: 20/04/2017
A part-time firefighter from the Varteg area of Torfaen has received a boost to his charitable fundraising efforts as he prepares to face a gruelling world record attempt next month.
Nathan Davies, 26 who works as a Network Services Technician at Wales & West Utilities Newport stores, has received a £300 boost to his charity fundraising efforts from his employer as he gets ready to face the toughest challenge of his life.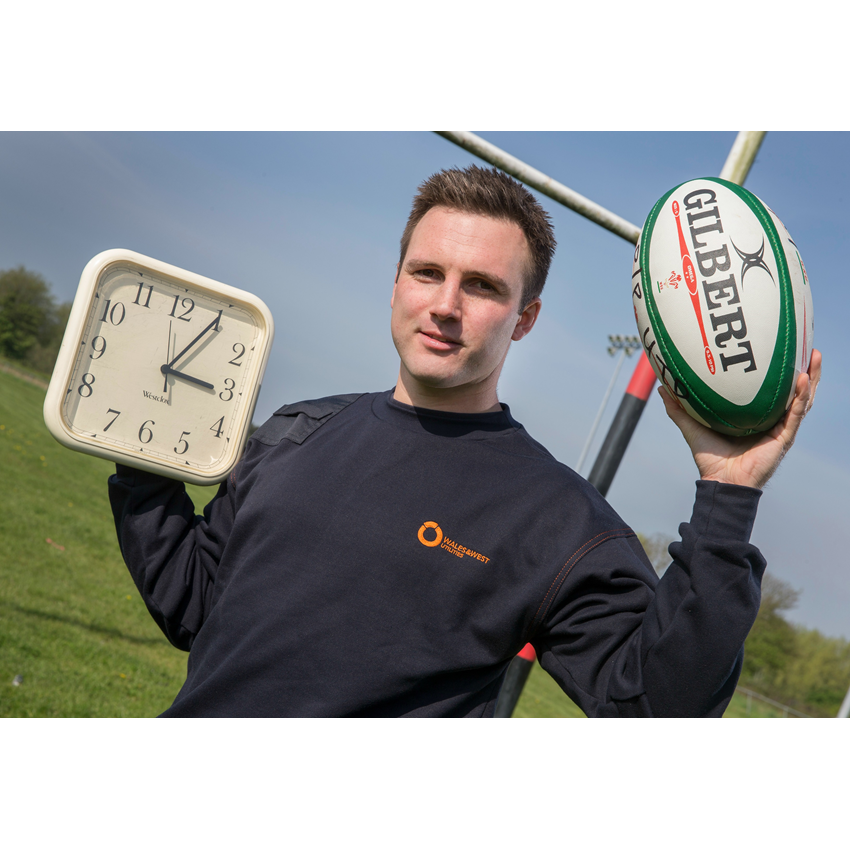 Pictured: Nathan gets ready to attempt world record


Next month Nathan, who also works as a part-time firefighter based out of the Abersychan station, will form a team, along with 23 other firefighters from across the UK, to set a world record in playing the world's longest rugby match.
A keen Pontypool United RFC player, Nathan and the rest of the team will attempt to play for over 30 hours whilst raising vital funds for the Firefighters Charity – an organisation that provides rehabilitation and support to injured firefighters.
The match-funding from Wales & West Utilities has seen Nathan's fundraising efforts reach over £1,200 and it is hoped he will raise even more in the coming weeks. The match will take place on 12/13 May at Worcester Warriors Rugby Club at Sixways Stadium, Worcester.
Nathan explains his motivation: "Whilst on Facebook I saw the plea for rugby-loving firefighters to attempt a world record and decided I had nothing to lose. After being accepted I have been training hard as this will be the hardest thing I have ever done – both physically and mentally. I am absolutely thrilled with the amount of money I have raised and the £300 from Wales & West Utilities has been the extra boost I need.
"I am proud to serve as a firefighter for the local community and the support I've received from the people of Abersychan and the surrounding area has been phenomenal. Knowing that people and my employer are cheering me on will help keep me focussed when things get tough in the 30 hour game.
"Whatever happens I am thrilled to be part of something this big and hope we can succeed in breaking the world record whilst also raising money for a cause close to my heart."
Wales & West Utilities People & Engagement Director Sarah Hopkins added:
"We are committed to supporting the fundraising efforts of our colleagues and we are all behind Nathan as he, and the rest of the team, attempt to break this world record.

"Our match-funding contribution seeks to make the money raised by colleagues go further and we wish everyone involved the very best of luck in breaking this world record attempt."
The Firefighters Charity, which has been established for over 70 years, supports injured firefighters with services ranging from physical treatment such as physiotherapy and nursing to family support and health and wellbeing.
To support Nathan and make a donation please visit https://www.justgiving.com/fundraising/NathanDavies10.
Wales & West Utilities, the gas emergency and pipeline service, takes pride in serving Wales and the south west of England. If anyone smells gas, thinks they have a gas leak, or suspects carbon monoxide poisoning, they should call us on 0800 111 999 and our engineers will be there to help, day or night. 
The company also has a multi-million pound, 30-year gas pipe investment programme which began in 2002. Old metal pipes within 30 metres of buildings are being replaced with new long-lasting plastic pipes with a lifespan of more than 80 years, to make sure homes and businesses continue to receive a safe and reliable gas supply now and in the future.